The Kent Island Heritage Society
The Kent Island Heritage Society was founded in 1975 for the purpose of discovering, identifying, restoring and preserving the heritage of Kent Island in Maryland. It works diligently to facilitate the processes by which both its youth and mature history enthusiasts can acquire an appreciation of Kent Island's place in the history of Maryland and of our nation.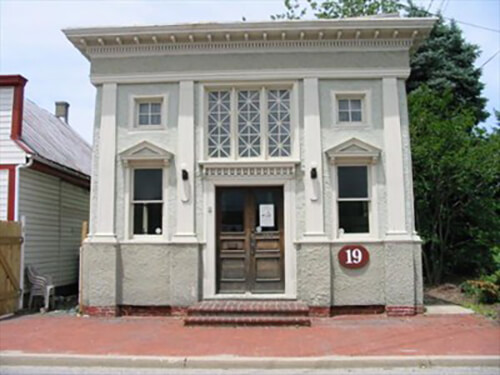 Latest News!
We have a sweet deal for you!
2023 is going to be an exciting year for the Kent Island Heritage Society.  We have already hosted several groups of visitors at the Kirwan House and at our historic buildings in downtown Historic Stevensville.  Plans are underway for this year's Kent Island Day to be held Saturday May 20.  We also are planning a great presentation for the community in March.  We are in the process of getting all of the historic sites ready for visitors in the Spring.  And last but not least we are thinking ahead to the September 24 Annual Old Fashioned Picnic.  Check back for updates on these events and more!

Old Fashioned Picnic is a Resounding Success!
Kent Island Heritage Society Members and their Guests enjoyed beautiful weather at The Kirwan House and Farm Sunday, September 25, 2022, 1:00 to 5:00 p.m.  There was plenty of homemade food, homemade ice cream, great company, old friends and new faces, hayrides, rock painting, feed the chickens, a Kirwan House Tour, guess the weight of the pumpkin contest, music by Monique and Mike Thomas, invocation by Doug Bishop, and guess the gadget contest!  Thankfully the rain held off and we were able to have a great picnic, the first in 4 years!  See you next year!
Historic Stevensville Metric Half Marathon
The Inaugural Historic Stevensville Metric Half Marathon (13.1K or 8.15 miles) was held Sunday September 25.  The course wound its way through the wonderful Historic Stevensville District before finishing where it began at Bark BBQ and Cafe.  There were 145 participants.  Some even took the opportunity to stop and have a photo taken with Jack Broderick, President, and Tom Tate, Old Stevensville Post Office docent!  Proceeds went towards supporting the Chesapeake Bay Environmental Center for their Creepy Crawlers program and the Kent Island Heritage Society!  Thank you for your support.
We Need You!
As we celebrate the success of our wonderful Kent Island Day in May, the fascinating presentation in June on our Underground Railroad Network to Freedom site here on Kent Island, and the opening of Historic Sites for "First Saturdays", one fact is glaringly apparent. We have too few good folks doing too many good things in support of our mission. We are in reasonably good shape financially, but we need more direct personal involvement from our members!
To read about our exciting opportunities to volunteer your time towards a worthy cause READ HERE.