The Kent Island Heritage Society
The Kent Island Heritage Society was founded in 1975 for the purpose of discovering, identifying, restoring and preserving the heritage of Kent Island in Maryland. It works diligently to facilitate the processes by which both its youth and mature history enthusiasts can acquire an appreciation of Kent Island's place in the history of Maryland and of our nation.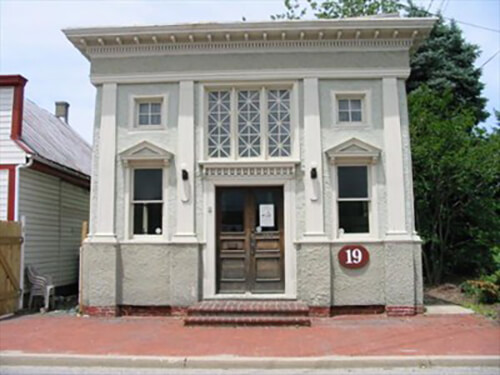 COVID-19 Update: May 12, 2020
For the protection of our visitors and docents, Stevensville and Chester historic sites will remain closed until mandated by the Governor of Maryland. Special programs and events have been postponed until it is deemed safe.
Please visit us virtually and explore what we have to offer online.  When we are able to open our sites safely notification will be available on our website; and our Twitter and Facebook accounts which you can access at the top of this page.
Stay healthy and we hope to see you soon!
Kent Island Day 2020 Canceled!
We are sorry to announce the cancellation of KI Day 2020 due to the ongoing pandemic.
Visitors and participants can find out more about this fantastic family event here: Kent Island Day Information
Doughnuts and Docents Workshop 

Saturday, March 14:  10:00am – 12:00pm Canceled!

Out an abundance of caution and to protect our docents we have decided to cancel this event until further notice.  Those interested in becoming a docent may contact Nancy Cook at 410-758-2502 or 410-739-9894.
Description:
Volunteers are needed for our historic sites on Kent Island. This is an opportunity to share in spreading the history of the third oldest English-speaking settlement in America.
Postponed:  Presentation by Dr. Darrin Lowery, noted archaeologist, scheduled for Wednesday March 18 at 7 pm at the Historic Christ Church in Stevensville.
Photo of Coronavirus courtesy of CDC/ Alissa Eckert, MS; Dan Higgins, MAMS
"In light of the recent concerns and public alerts about the coronavirus – Covid19, we have decided to postpone the March 18 general meeting of the Kent Island Heritage Society, the presentation on Archaeology on Kent Island by Dr. Darrin Lowery. This decision is driven by a combination of factors – the close quarters of a crowded Historic Christ Church Building, the advanced ages of many of our members who would likely be in attendance, and the fact that the event can be postponed to a later date (to be determined).The health and welfare of our members and of our community at large is our highest priority.
In taking this action we are following the guidelines that senior health officials have strongly suggested. We believe that it is best In this case to err on the side of caution.
We appreciate the understanding and support of our members and of our community."
Read a wonderful article about the archaeological history of Kent Island HERE.
THANKS TO THE FOLLOWING BUSINESSES FOR SUPPORTING THE KENT ISLAND HERITAGE SOCIETY'S ACTIVITIES!
A Little Wildflower Nursery

Chesapeake Light Tackle

Harris Marine Financing

Kentmorr Marina Properties, LLC

Lundberg Builders

Queenstown Bank of Maryland

Rosendale Realty
Interesting in supporting our efforts through membership or donations?  GO HERE!
MEET THE NEW BOARD MEMBERS AND OFFICERS FOR 2020
From left to right:  Seated in foreground Lynne Riley-Coleman, Treasurer; Nancy Cook, Recording Secretary; Robert Lowe, Vice President; Lynnda Kratovil, officiant; Jack Broderick, President; Carol Frederick, Corresponding Secretary; Louis Crouch, new Board Member; Linda Moore, new Board Member; Leslie Moore, new Board Member; and Kristin Green, new Board Member.  Welcome new Board Members! We look forward to your contributions as we work to promote the heritage of Kent Island.
PRESIDENT JACK BRODERICK DISCUSSES KENT ISLAND HISTORY ON WNAV
WNAV Interview with Jack Broderick
KENT ISLAND HERITAGE SOCIETY SCHOLARSHIP 2020
The Kent Island Heritage Society is offering a $1000 one-year scholarship
to a graduating senior from Kent Island High School who plans to attend college.
Download the application form and instructions HERE.
Kent Island Heritage Society's president, Jack Broderick, is featured in the new Kent Island Neighbors direct mail magazine!
The article details his involvement in preserving and sharing Kent Island's History. Look for it in your mailbox if you live on Kent Island.
New blacksmith shop at the kirwan house and museum receives the original anvil used by senator james kirwan.
Curtie Chance, friend of the Kirwan family, donated the anvil to be used by Mike Bouchall, resident blacksmith.  If you have any blacksmithing tools you would like to donate to be used in the new blacksmith shop please contact Jack Broderick at (410) 829-7760 or email kent.island.heritage.society@gmail.com
amazon smile!
Do you shop on Amazon.com?  Did you know you can link your AmazonSmile purchases to to your favorite registered charity or non-profit organization?  The Kent Island Heritage Society Inc. is registered.  Simply type in The Kent Island Heritage Society Inc into the search box for ALL  Charities and select it!
AmazonSmile is a website operated by Amazon with the same products, prices, and shopping features as Amazon.com. The difference is that when you shop on AmazonSmile, the AmazonSmile Foundation will donate 0.5% of the purchase price of eligible products to the charitable organization of your choice.
How do I shop at AmazonSmile?
To shop at AmazonSmile simply go to smile.amazon.com from the web browser on your computer or mobile device. You may also want to add a bookmark to smile.amazon.com to make it even easier to return and start your shopping at AmazonSmile.
Can I use my existing Amazon.com account on AmazonSmile?
Yes, you use the same account on Amazon.com and AmazonSmile. Your shopping cart, Wish List, wedding or baby registry, and other account settings are also the same.
How do I select a charitable organization to support when shopping on AmazonSmile?
On your first visit to AmazonSmile smile.amazon.com, you need to select a charitable organization to receive donations from eligible purchases before you begin shopping. We will remember your selection, and then every eligible purchase you make at smile.amazon.com will result in a donation. AmazonSmile will occasionally contact you about donation amounts disbursed to your chosen charity or about the program.
Can I change my charity?
Yes, you can change your charity any time. Your AmazonSmile purchases after the change count towards your newly selected charity. To change your charity, sign in to smile.amazon.com on your desktop or mobile phone browser and simply select "Change your Charity" in "Your Account."
What charities can I choose from?
You can choose from over one million eligible 501(c)(3) public charitable organizations.  We hope you will select The Kent Island Heritage Society Inc.
The Kent Island Heritage Society launches Historical Presentations.
The Heritage Society has various historical Kent Island presentations available for your school, local organizations, or groups.
Click the link below to read summaries of the historical presentations or download the brochure:
Please allow a month's notice and, if possible, we will provide a speaker from the Heritage Society for that interactive session.
Each presentation runs forty-five minutes to an hour.
The Society works diligently to assist our youth and mature history enthusiasts to acquire an appreciation of Kent Island's place in the history of our state and nation.
Welcome to Clio!
Do you use a mobile device (smartphone or tablet)?  Clio is your guide to the history and culture around you.  There are 31,448 historical entries from all across the country. You can now access information about the Kirwan House, General Store, and Museum on your mobile device!  We will be adding other sites in the near future and a walking tour.
Besides text and text to speech, Clio offers Google maps, Streetview, Photos, and more!  Give it a try!  It is available for Android and Apple platforms.
It's FREE!!
---
Historic Christ Church
Great news!!  We have good news to share. Historic Christ Church will
be saved! You may recall from our last newsletter that the County Commissioners had decided to declare Historic Christ Church in Stevensville surplus property - "not needed for any public purpose" and they offered the property for sale!  They ultimately received five proposals for varying uses of the property.  The church is an iconic, historic Kent Island landmark and The Kent Island Heritage Society took a strong public position advocating that the property be owned or controlled, as a public use facility, by a local nonprofit entity with the primary purpose of historic preservation and not operated as a private business.  We are happy to say that the Commissioners made the right decision – to deed the property to the "Friends of Historic Christ Church" as we had recommended.
We commend our Commissioners for their decision and look forward to assisting and supporting the "Friends" group to insure that the church is preserved for posterity.
Our Historic Sites are open to the public on the 1st Saturday of every month from April through November, from 12 o'clock noon until 4:00 p.m. with Society docents staffing the sites and providing unique live guided tours appropriate for residents, children, families, students and tourists. Additional tours of the sites may be scheduled by calling 410-758-2502 (Society Board Member Nancy Cook). The Kirwan Store Museum may also be privately scheduled by calling 410-643-2731 (Society Board Member Linda Collier).
---
We Need Volunteers!!
There are always little jobs that need doing at our historic sites. If you are so inclined and have a little free time, please contact us. Repair a window pane, water some flowers, paint a chair, rake, wash a window, feed the fish, help out with the fish pond, etc, etc., etc., One time or sometimes, your help is needed.  Contact Robert Lowe at kent.island.heritage.society@gmail.com or speak to any Kent Island Heritage Society Board Member.  We are grateful for any help you can offer!  Thanks!
---
JOIN THE KENT ISLAND HERITAGE SOCIETY!

We are always interested in having individuals, both young and mature, join the Kent Island Heritage Society.   There are many benefits to being a member including the opportunity to learn more about our Kent Island Heritage and support our ongoing activities to preserve the rich history of Maryland's earliest European settlement!  Join, you'll be glad you did!  For more information go to the Membership/Donate page or contact John L. Conley at 703 216 0449 or concomm@atlanticbb.net.