The Kent Island Heritage Society
The Kent Island Heritage Society was founded in 1975 for the purpose of discovering, identifying, restoring and preserving the heritage of Kent Island in Maryland. It works diligently to facilitate the processes by which both its youth and mature history enthusiasts can acquire an appreciation of Kent Island's place in the history of Maryland and of our nation.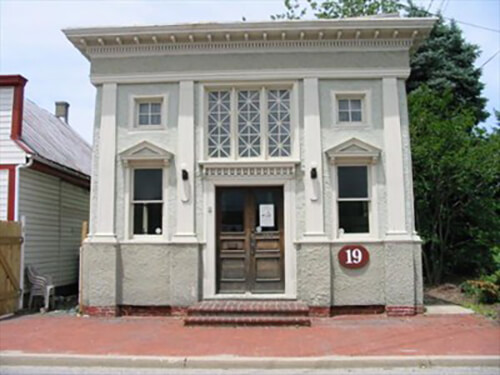 Attention!  Historic Sites Opening Delayed Until 2022!
The Kent Island Heritage Society has decided not to open our historic sites for public tours until the Spring of 2022 in spite of the recent downward trends in cases, hospitalization, and deaths due to Covid-19.  Our sites are small and not all are well ventilated. We value the health and welfare of our docents, our members, and our visitors and their families above all else. A decision will be made on future openings based on available public health data as the pandemic progresses. However, we are optimistic that we have turned the corner on the pandemic and will be able to provide our outstanding programs to the community in 2022.  We thank you for your understanding and urge you to stay safe.
"Preserving the heritage is what makes a place more of a community,"
Kent Island High School's graduated senior Juliana Biggam is the recipient of the 2021 Kent Island Heritage Society's $1,000 scholarship. She will attend Florida Atlantic University in Boca Raton, Florida, where she will major in biological sciences.
Julia wrote in her essay. "The heritage of a place is what gives the community its uniqueness and character." Read more HERE.
Kent Island Heritage Society stands up for Historic Preservation
President Jack Broderick makes an impassioned plea to the Queen Anne's County Commissioners to support county-wide historic preservation during a hearing on the abandonment of the Historic Centreville High School for a proposed new building.  Listen to his short (3 minute) speech HERE and while you are at it subscribe to the QAC YouTube Channel to keep up with the latest news in QAC!
Hidden Gems In Historic Stevensville
WMAR video highlights the Train Depot.  Click here to watch! Learn more about our train station and the railroad on Kent Island HERE.
Why the building of a third span across the Chesapeake Bay is "A Clear Threat to the Heritage of Kent island!"
Listen in as Kent Island Heritage Society President Jack Broderick joins Harold Wilson on the Delmarva Today podcast to discuss plans to build a new additional span connecting Kent Island to the heavily travelled 50/301 corridor.   The Kent Island Heritage Society considers such a project a direct threat to the heritage of Kent Island, the first European settlement in what is now Maryland.  During the podcast President Broderick explains how the past is connected to the future of Kent Island and how a third span threatens the island's heritage.
Click here to listen.
The History of the Isle of Kent (Kent Island)
Learn about the early settlement of Kent Island in 1631 by William Claiborne and why it is not considered the first English settlement in Maryland even though it is the fourth oldest permanent English settlement in the United States, after Jamestown, Virginia (1607), Hampton, Virginia (1609–10), and Plymouth, Massachusetts (1620).  Discover the conflicts that have shaped the history and culture of the island:  beaver pelts, oysters, mosquitos, wars, bombing ranges, and more by clicking the link below!
Kent Island Heritage Society Presentation
Did You Ever Wonder What Kent Island Used to Look Like?
View what Kent Island used to look like from the present all the way back to 1937.  You'll be amazed!  You can even compare two years side by side!  Link here.
Zoom to History!
The Kent island Heritage Society has suspended all in person presentations until further notice, however, we are able to Zoom some of the presentations.  Please stay tuned for updates! The Heritage Society has various historical Kent Island presentations available for your school, local organizations, or groups.
Click the link below to read summaries of the historical presentations or download the brochure:
Please allow a month's notice and, if possible, we will provide a speaker from the Heritage Society for that interactive session.
Each presentation runs forty-five minutes to an hour.
The Society works diligently to assist our youth and mature history enthusiasts to acquire an appreciation of Kent Island's place in the history of our state and nation.
Blast from the Past!
Enjoy this video from 2012 starring our Nancy Cook (Queen Anne's County Historic Sites Chair) and Linda Collier (curator of the Kirwan House General Store and Museum). Two Minutes of History
THANKS TO THE FOLLOWING BUSINESSES FOR SUPPORTING THE KENT ISLAND HERITAGE SOCIETY'S ACTIVITIES!
A Little Farm Nursery

Four Seasons at Kent Island

Chesapeake Light Tackle

Harris Marine Financing

Kentmorr Marina Properties, LLC

Lundberg Builders

Rosendale Realty
Interesting in supporting our efforts through membership or donations?  GO HERE!
MEET THE NEW BOARD MEMBERS AND OFFICERS FOR 2020/2021
From left to right:  Seated in foreground Lynne Riley-Coleman, Treasurer; Nancy Cook, Recording Secretary; Robert Lowe, Vice President; Lynnda Kratovil, officiant; Jack Broderick, President; Carol Frederick, Corresponding Secretary; Louis Crouch, new Board Member; Linda Moore, new Board Member; Leslie Moore, new Board Member; and Kristin Green, new Board Member.  Welcome new Board Members! We look forward to your contributions as we work to promote the heritage of Kent Island.
TAX DEDUCTIBLE DONATIONS
The Kent Island Heritage Society, Inc. is a private, 501(c)(3) nonprofit organization; donations to which are tax deductible to the fullest extent of the law - if the Kent Island Heritage Society has provided no goods or services to the donor in exchange for these donations
Use this link to join or make a donation.
AmazonSmile!
Do you shop on Amazon.com?  Did you know you can link your AmazonSmile purchases to to your favorite registered charity or non-profit organization?  The Kent Island Heritage Society Inc. is registered.  Simply type in The Kent Island Heritage Society Inc into the search box for ALL  Charities and select it!
AmazonSmile is a website operated by Amazon with the same products, prices, and shopping features as Amazon.com. The difference is that when you shop on AmazonSmile, the AmazonSmile Foundation will donate 0.5% of the purchase price of eligible products to the charitable organization of your choice.
Clio: Your Guide to History and Culture
Besides your PC you can use a mobile device (smartphone or tablet) to access Clio on the go!  Clio is your guide to the history and culture around you.  There are 31,448 historical entries from all across the country. You can now access information about the Kirwan House, General Store, and Museum on your mobile device!  We will be adding other sites in the near future and a walking tour.
Besides text and text to speech, Clio offers Google maps, Streetview, Photos, and more!  Give it a try!  It is available for Android and Apple platforms.
It's FREE!!
*Our Historic Sites are open to the public on the 1st Saturday of every month from April through November, from 12 o'clock noon until 4:00 p.m. with Society docents staffing the sites and providing unique live guided tours appropriate for residents, children, families, students and tourists. Additional tours of the sites may be scheduled by calling 410-758-2502 (Society Board Member Nancy Cook). The Kirwan Store Museum may also be privately scheduled by calling 410-643-2731 (Society Board Member Linda Collier).
*Please refer to our latest announcements at the top of the page.
---
We Need Volunteers!!
There are always little jobs that need doing at our historic sites. If you are so inclined and have a little free time, please contact us. Repair a window pane, water some flowers, paint a chair, rake, wash a window, feed the fish, help out with the fish pond, etc, etc., etc., One time or sometimes, your help is needed.  Contact Robert Lowe at kent.island.heritage.society@gmail.com or speak to any Kent Island Heritage Society Board Member.  We are grateful for any help you can offer!  Thanks!
---
JOIN THE KENT ISLAND HERITAGE SOCIETY!

We are always interested in having individuals, both young and mature, join the Kent Island Heritage Society.   There are many benefits to being a member including the opportunity to learn more about our Kent Island Heritage and support our ongoing activities to preserve the rich history of Maryland's earliest European settlement!  Join, you'll be glad you did!  For more information go to the Membership/Donate page or contact John L. Conley at 703 216 0449 or jconcomm@gmail.com.