The Kent Island Heritage Society
The Kent Island Heritage Society was founded in 1975 for the purpose of discovering, identifying, restoring and preserving the heritage of Kent Island in Maryland. It works diligently to facilitate the processes by which both its youth and mature history enthusiasts can acquire an appreciation of Kent Island's place in the history of Maryland and of our nation.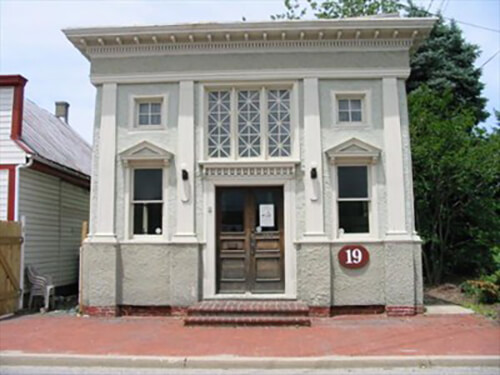 Annual Holiday Brunch
The Kent Island Heritage Society Board of Directors requests the pleasure of your company at the Annual Holiday Brunch to be held Sunday, December 10, 2023 at the Cascia Vineyard Tasting Room, 1200 Thompson Creek Rd. Stevensville, MD from 1:00 to 3:30 pm.  The event will be catered by Chesapeake Celebrations).
To view the menu and reserve your seat please use THIS FORM.
Deadline is Monday December 5.
Come Visit Us (In the Spring)!
Visits to our historic sites in Stevensville and Chester are a wrap for 2023!  But that shouldn't stop you from planning a visit or visits for 2024!  We will once again open our sites on the the first Saturday of April to November from 12 noon to 4 pm.  At each site you will learn about its importance in Kent Island history and other intriguing facts about the building and its past owners from one of our docents.  Please read more HERE to learn more about each site.
Another reason to visit is the grand opening of our Kent Island Heritage Center and Research Library.  We are currently renovating Schoolhouse No.2 in Historic Stevensville and plan to have it open to the public in time for the 2024 Kent Island Day.  We have some exciting and unique exhibits planned that you won't find anywhere else!  And of course we will have a research library which will house our archives currently held at the Queen Anne's County Library on Kent Island.  Please read the accompanying article and check back here for updates on our progress!
Another Close Call for the Kirwan House, Museum, and General Store.
The Kent Island Heritage Society made the right call when they cancelled the annual picnic at the Kirwan House Sunday September 24.  High winds and rain caused tree damage near the dairy.  However, no buildings were damaged but the grounds were left soggy and wet: not conducive to the day's planned events.  There are still two First Saturdays where you can visit our historic sites, including the Kirwan House, Museum, and General Store!
This Beautiful PRS Guitar Could Be Yours!
Do you play guitar, always wanted to learn, or just appreciate a well-made guitar? Stay tuned and learn how this guitar can be yours!  Thanks to PRS Guitars (Stevensville, Kent Island, MD) for donating this beautiful guitar to the Kent Island Heritage Society.  Now it can be yours!  Watch this page for updates!
Shaping a Landscape: The Archaeology and History of People in the Chesapeake.
President Jack Broderick and guest speaker Dr. John Seidel.
Sponsored by the Kent Island Heritage Society and hosted by Friends of Historic Christ Church.  If you missed this excellent lecture about the interaction of people, their culture, and the environment and how it has shaped the Chesapeake Bay, including Kent Island, you can watch it on our YouTube channel which has many other presentations, oral histories, and short videos or you can view it HERE.
You can find out more about Dr. Seidel's work HERE.
For more information on current programs and projects at Washington College's Center for Environment and Society go HERE.
Another Successful Kent Island Day thanks to all involved!
Kent Island Day was held May 20, 2023 from 10 am to 4 pm.  The parade was awesome, the streets were crowded, vendors busy, activities were provided for young and old alike, the musical entertainment was outstanding, the food and drink was great, historic sites were open with docents, history and heritage was alive in the Cray House Green, and most of all the visitors were the best.  Although we have no way to give an exact number of people at this year's event we estimate ~2000.  Together with the vendors, exhibitors, non-profits, entertainers, and staff Historic Stevensville was the place to be!  The weather started out cool and damp but by time the opening Ceremonies and Parade began the weather improved by the minute.  Special thanks to Stacy Bernstein, Event Administrative Coordinator without whom we could not have provided this great event and to Cliff Lowe, III for once again filling and smoothing out the many potholes in the vendor areas to make it safe for everyone.  Once again we had a safe, family friendly event due to the assistance of the SHA, MSP, and QAC's Sheriff Department! And last but not least thanks to our many volunteers who gave up many hours ,and in some cases days, to help plan, carryout, and ensure a successful event!  Thank you, thank you!  See you in 2024 on the third Saturday of May!
You can see a full listing of this year's participants, activities, and patrons on the Kent Island Day 2023 link!
Thanks to the Following 2023 Sponsors
Kent Island American Legion #278
Queenstown Bank
Queenstown Landing
Paul Reed Smith (PRS) Guitars
Bay Point Wealth
The Case of the Missing William Claiborne Forts on Kent Island
On Tuesday March 21, 2023 Dr. Matthew McKnight, Chief Archaeologist at the Maryland Historic Trust, travelled to Kent Island, Maryland to speak about the probable locations for William Claiborne's fortifications.  Like the infamous Oak Island Treasure tantalizing clues have been found but the exact locations are yet to be found.  It will take a partnership between property owners, archaeologists, and the Kent Island Heritage Society to hopefully make new  discoveries.  New technology is available for minimal and non-invasive exploration.  More information about archaeology can be found at the Maryland Historical Trust HERE
Train Station and Caboose Makeover!
President Jack Broderick with Geoffrey and Ashley MacLeay of the Macleay Family Endowment. The foundation donated $10,000 to help renovate the train station! Thank you! Without the support of the community, it would be impossible to adequately maintain our historic buildings and provide all that we offer!  We've almost completed the train depot (needs a new roof) and the Caboose is next.  You can follow the progress here!
Follow our progress HERE.
We have a sweet deal for you!
2023 has been an exciting year so far for the Kent Island Heritage Society.  We have already hosted several groups of visitors at the Kirwan House and at our historic buildings in downtown Historic Stevensville.  This year's Kent Island Day held Saturday May 20 was a great success.  We've hosted two well attended presentations by Dr. Matt McKnight and Dr. Bill Seidel.  Read all about it up above.  All of the historic sites are ready for visitors! And last but not least we are thinking ahead to the September 24 Annual Old Fashioned Picnic.  Check back for updates on these events and more!

Volunteers Needed!
The Kent Island Heritage Society is in need of volunteers, members and nonmembers alike!  We are always searching for likeminded individuals interested in supporting our mission to discover, identify, restore, and preserve the history and heritage of Maryland's Kent Island.
Opportunities exist to
help maintain historic sites
docent historic sites on First Saturdays
help with Kent Island Day
lend your unique talents to our organization

legal
financial
planning and organizational skills
marketing
social media
graphics and web design
decision makers
history and genealogical research
technology
art and entertainment
news and grant writing
teaching
To read about our exciting opportunities to volunteer your time towards a worthy cause READ HERE or email interests or questions to [email protected]
Welcome!
KIHS WAS PLEASED TO HOST THE 9TH GRADE BASKETBALL TEAM FROM ST. GEORGE'S TECHNICAL HIGH SCHOOL IN MIDDLETON, DELAWARE IN JANUARY. The team was here to play the Kent Island High School team and its coach George White wanted the team to visit a historic museum or site during the trip. Linda Collier and John Conley gave a tour of the country store, Kirwan House, and grounds. The students and their parents and coaches found materials in the store of real interest and asked many questions. We later learned the coach was requiring players to write an essay about the visit. KIHS welcomes the opportunity to share history with students, teachers, parents, and coaches!
Historic Stevensville Bank has a New Owner
New owner of the historic Stevensville Bank, Bill Hufnell cuts the ribbon for the location of Bay Point Wealth, 409 Love Point Road, in downtown Stevensville. From left, Chris Hufnell, Bill Hufnell, Kent Island Heritage Society officer John Conley (dressed as the late Senator James Kirwan), KI Rotary Club Membership Chair Brad Lundberg, KI Heritage Society President Jack Broderick (in colonial attire), and Queen Anne's County Chamber of Commerce President Linda Friday. Hufnell is offering his financial planning services inside the former bank and maintaining the building as a historic site.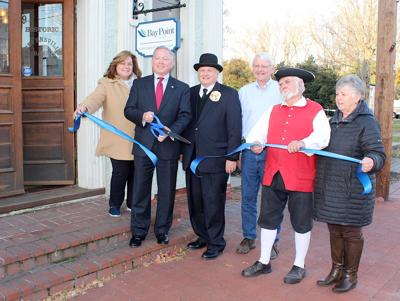 Photo by Doug Bishop
Amazon Smile Discontinued!
If you are one of the many individuals that chose the Kent Island Heritage Society to donate to through the Amazon Smile program we thank you!  Your donations help to sustain our programs and maintain our historic buildings.  Unfortunately, Amazon did not feel that this program was beneficial to their overall mission and have discontinued it.  You can still donate to us on our Donations Page.  If you are interested in donating items of historical significance or want to contribute funding for a special project please contact us by EMAIL or phone at 703-216-0449.  Thanks for your continued support to preserve our Kent Island heritage and culture!